Future Dreaming
Salone del Mobile last June was an opportunity for L'Ottocento to reconfirm its responsible commitment to sustainable manufacturing, which prioritizes natural raw materials to support the idea of ​​present and future well-being and quality of life.
All three solutions for the kitchen and living room presented at Eurocucina 2022 represent the union of craftsmanship, stylistic and technological innovation, and functionality, celebrating timeless elegance.
This timeless vision of furnishings is what guides L'Ottocento's design, which finds expression in the quality of the proposals and in the fusion of classic and contemporary style.
Floral Botanica boiserie + Archetipo island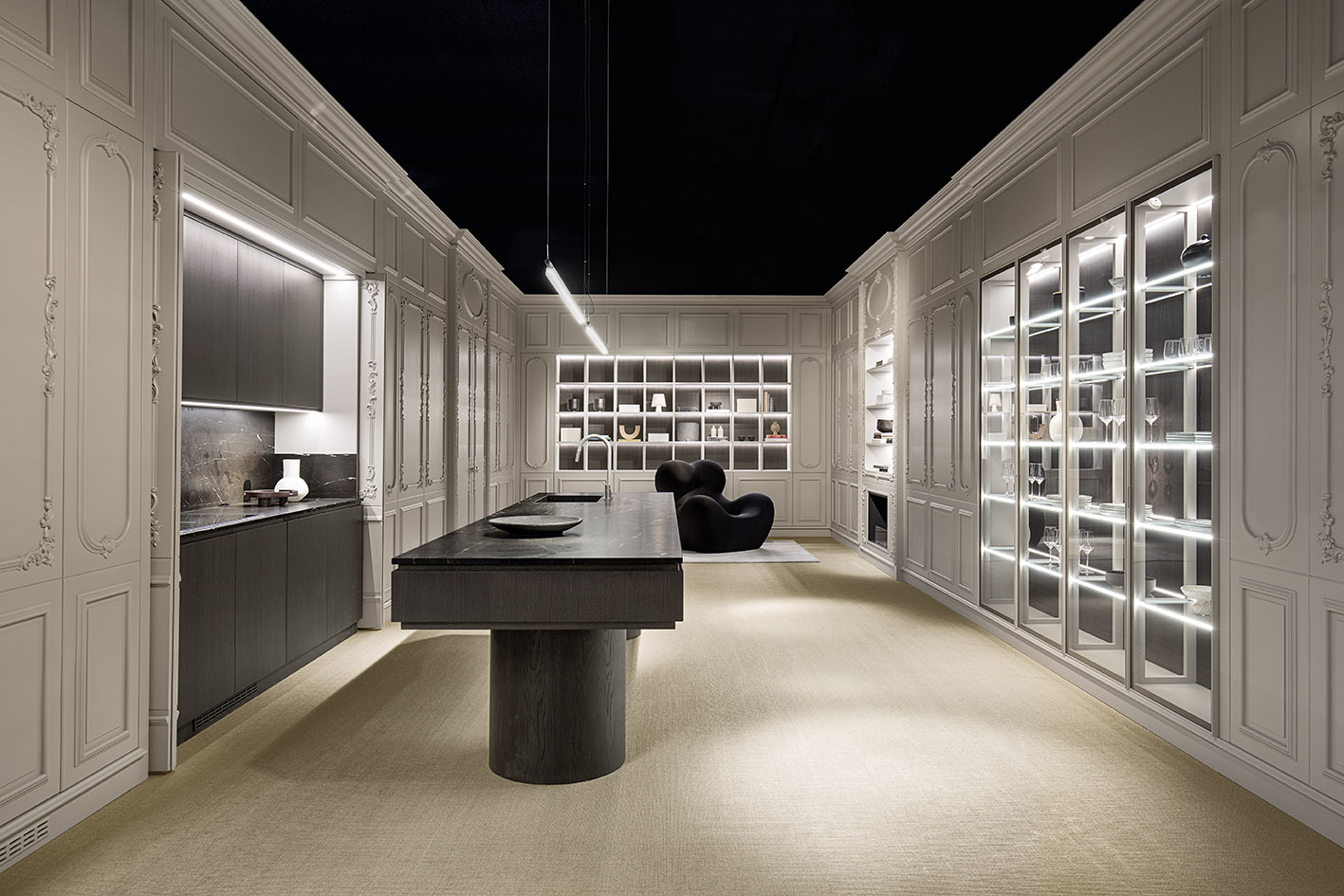 Charming and romantic, the new Floral Botanica wooden boiserie takes its name from the precious hand-made wood carvings with a botanical theme. Nest lacquered with closed pores, it envelops the environment with a fully equipped and versatile wall system, customizable according to the needs and goals of the spaces: kitchen, living room, or relaxation.
In the kitchen area, Floral Botanica is complemented by the new Archetipo island in dark oak, characterized by light lines.
Atlante boiserie + Archetipo island
The Atlante storage boiserie, characterized by a linear design and opening handles integrated into the frame, expresses a creative concept that starts from the kitchen and becomes available in all spaces of the home, following a common thread with strong material expressiveness. Presented in the iconic walnut wood, it is complemented in the space dedicated to the kitchen by the Archetipo island with the new Erable wooden covering by Alpi and top in Lapitec.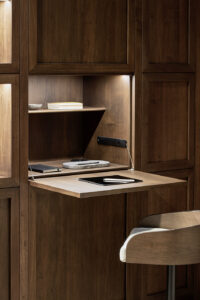 Chronos 2.2
The new Chronos 2.2 kitchen uses a more traditional configuration that plays on the elegant contrasts of dark and Nordic oak. The heart of the environment is the working area, where the base units with rounded doors are complemented by the showcase wall units in wood and smoked glass, illuminated by LEDs. The side pantry and fridge/oven tall units, with a contemporary mood, are distinguished by the smooth full-height doors, equipped with a long and linear handle. In chromatic contrast, the natural travertine elegantly defines the back panel and the top.